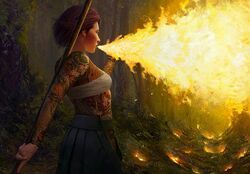 Togashi Tameko was a fire Tattooed Monk of the Dragon Clan.
Noboru's Attendant
Edit
Tameko was an attendant of her Lord Togashi Noboru, when he returned from the Colonies in 1200, shortly after Togashi Satsu died. She told Noboru that Togashi Kasuru had left the clan and taken asylum in Unicorn lands. She also told him that actual tattooing technique came from the teachings of Hitomi Kokujin, and she learned it from her tattooing sensei. The Togashi Daimyo considered that following the technique of Kokujin was a danger to their entire order, and requested to stop tattooing more of the Togashi under all the process was considered safe. [1]
External Links
Edit
References
Ad blocker interference detected!
Wikia is a free-to-use site that makes money from advertising. We have a modified experience for viewers using ad blockers

Wikia is not accessible if you've made further modifications. Remove the custom ad blocker rule(s) and the page will load as expected.