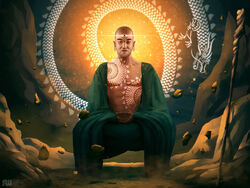 Togashi Taiki was a Tattooed Monk of the Dragon Clan.
Taiki bore a Centipede tattoo on his bare back. He was sent to the Colonies as advisor to Togashi Noboru, the Togashi Daimyo. In 1200 hios Lord returned to Kyuden Togashi and Taiki accompanied him. The monk reported to Noboru that he had survived an attack made by a member of the Spider Clan he was overseeing for years. The Spider Clan were going into hiding, with most of their colonial strongholds deserted or put to the torch, moving to the Shadowlands. [1]
External Links
Edit
References
Ad blocker interference detected!
Wikia is a free-to-use site that makes money from advertising. We have a modified experience for viewers using ad blockers

Wikia is not accessible if you've made further modifications. Remove the custom ad blocker rule(s) and the page will load as expected.