Please note: This article is about the tattooed monk. For other uses of the term, please see Sho (disambiguation).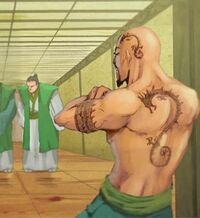 Togashi Sho was a tattooed monk of the Dragon Clan.
He served Kitsuki Iweko in Shiro Kitsuki. [1]
Destroyer War
Edit
A mysterious statuary appeared in the Imperial Court. It was clearly made by a Crab anonimous artisan. The piece of stone depicted despair and anger, joy and sorrow and even love. It raised the spirits of those who saw it in such dreadful time during the Destroyer War. Sho seeing the piece of art felt he was far from enlightenment. [2]
External Links
Edit
References