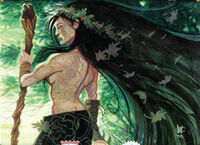 Hoshi Oki was a tattooed monk of the Dragon Clan, who became Togashi Oki after the three orders became one.
Appearance
Edit
Oki was a small woman with black hair who wore a short robe. Her skin was painted in a complex pattern of tattoos, images of vines, roots, and leaves. [1]
Oki was stationed on the High House of Light. In 1165 the castle was visited by the Hiruma Daimyo, Hiruma Todori, and she introduced the Crab to her lord, Togashi Satsu. [1]
Winter Court - 1168
Edit
In 1168 Oki was a Dragon attendant in Winter Court at Kyuden Otomo. The Hoshi were growing distant and the Dragon Clan Champion Togashi Satsu had detected an imbalance within both the Hitomi family and the Hoshi. [2] Words of the

attack on the

, the Khan's Defiance, reached the court when two months had passed from the first attack. [3] Oki had a romance with Soshi Ukyo. The
died at the end of Winter Court, when he heroically sacrificed his life to help defeat the escaping Daigotsu Soetsu. [4]
Joining the Togashi
Edit
Oki joined the Togashi family, becoming Togashi Oki, following the absorption of the Hitomi and Hoshi families into the Togashi [5] ordered by the Dragon Clan Champion Togashi Satsu to restore the balance. [6]
External Links
Edit
References