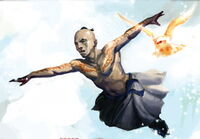 Togashi Nakahara was an Ise Zumi of the Dragon Clan.
Destroyer War
Edit
In 1172 Nakahara aided the Mirumoto Elite Guard and Mukami's Legion to intercept and destroy an oni horde unleashed during the Destroyer War. [1]
External Links
Edit
References
Ad blocker interference detected!
Wikia is a free-to-use site that makes money from advertising. We have a modified experience for viewers using ad blockers

Wikia is not accessible if you've made further modifications. Remove the custom ad blocker rule(s) and the page will load as expected.