RPG Information
Edit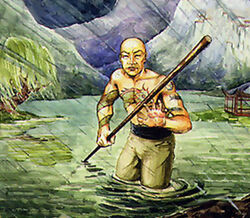 Togashi Matsuo, Tattooed Hero
Statistics
Edit
| | | | | | |
| --- | --- | --- | --- | --- | --- |
| | Air 2 | Earth 3 | Fire 3 | Water 3 | Void 4 |
| | Reflexes 3 | Stamina 3 | Agility 3 | Strength 3 | |
| | Awareness 2 | Willpower 3 | Intelligence 3 | Perception 3 | |
Advantages
Edit
Disadvantages
Edit
Matsuo has only one tattoo, which he could force to change to one of these tattoos:
Togashi had bestowed upon Matsuo the Eternal Dragon's Favor.
Major References
Edit
Secrets of the Dragon, page 75
Way of the Open Hand, page 57
Ad blocker interference detected!
Wikia is a free-to-use site that makes money from advertising. We have a modified experience for viewers using ad blockers

Wikia is not accessible if you've made further modifications. Remove the custom ad blocker rule(s) and the page will load as expected.