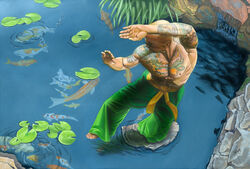 Togashi Kyoshi was a tattooed monk of the Dragon Clan.
Sneaking toward Shiro Hiruma
Edit
In 1171 during the Destroyer War Kyoshi managed to reach Shiro Hiruma surrounded by the Destroyers but untouched by the war thus far. He returned jurneying the Shadowlands using his mystical tattoos. He was found by a Hiruma contingent led by Hiruma Todori, the Hiruma Daimyo. Todori rejoiced with the news Kyoshi gave about the castle. [1]
External Links
Edit
References