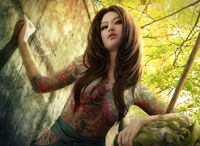 Togashi Korimi was an Earth Tattooed Monk of the Dragon Clan. She held the soul of Togashi Oki within her. [1]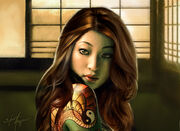 Demeanor
Edit
Korimi's eccentricities included her tendency to forget to wear clothing, which was remarkable even among her fellow monks, much less among the clans. Korimi simply found such things unimportant. [2]
"The distractions of the physical world are an obstacle we must overcome to reach the truth of enlightenment. Conflict, debate, politics, even clothing can stand in our path."
-Togashi Korimi
Colonies
Edit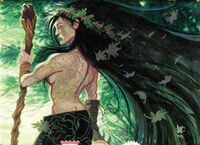 Korimi moved to the Second City, in the Colonies. In 1199 during the Dark Naga Siege of the Second City she confronted and killed the Shakash, commander of the Dark Naga forces, who had breached the eastern wall of the Imperial District. [4]
Kolat Relationship?
Edit
For unknown reasons Korimi was approached by the Abbot, who entrusted her with delivering a message to Mirumoto Kyoshiro. Korimi found the bitter duelist shortly after he had killed Doji Masachika in an impromptu duel. The Ise Zumi told him a riddle 'Man does not need the Celestial Wheel to perfect his soul. He may change, in this life, and grow.' This was part of the Kolat philosophy. [5] It is unknown if Korimi was part of the conspiracy herself, being the Abbot Master Coin, who recruited Kyoshiro as Master Chrysanthemum weeks after Korimi delivered the message.
External Links
Edit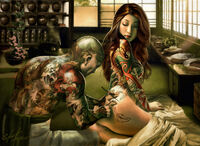 References
Ad blocker interference detected!
Wikia is a free-to-use site that makes money from advertising. We have a modified experience for viewers using ad blockers

Wikia is not accessible if you've made further modifications. Remove the custom ad blocker rule(s) and the page will load as expected.