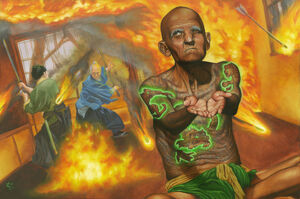 Togashi Kasuru was a void Tattooed Monk and tactician of the Dragon Clan.
Tattooing Master
Edit
Kasuru was one of the greatest tattooing artists of his time, serving for Clan for decades. When Togashi Yokuni died, the reserves of his blood needed for Dragon tattoos ran low. All tattoos since came from Hitomi, who developed a new technique based on teachings from Hitomi Kokujin. [1]
Leaving the Dragon
Edit
Kasuru eventually tattooed the Dragon Clan Champion Togashi Satsu. In 1200, shortly after Satsu died, Kasuru left his clan and taken asylum in Unicorn lands. At Shiro Moto he tattooed Moto Naleesh, the Unicorn Clan Champion. [1]
External Links
Edit
References