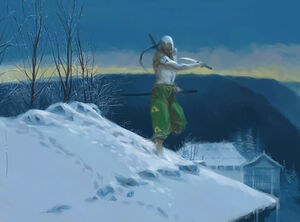 Togashi Kansuke was a bushi of the Dragon Clan, known to be brash, arrogant, and brutish. He was also a very devout student of the Tao.
Kansuke was the child of two Ise Zumi whom had fallen in love in the High House of Light. They loved their son, and did not pressure him in his path, but let him choose it himself. The boy found himself drawn to swordplay and the way of the bushi, and was fully supported by his parents. Glad that they were willing to give him their full support, he also immersed himself in the writings they revered, often studying into the late of night, while embracing his martial training during the day. His devotion caused his sensei to point him to the Students of the Tao, who had similar interests. [1]
Kansuke was seriously wounded at one point in a battle with the Phoenix. This gave him more time to study, but did nothing to dull his passion for the sword… or improve his social skills. [1]
External Links
Edit
References