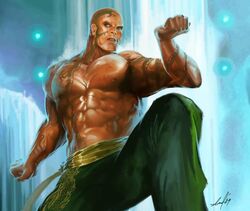 Togashi Kanmu was a tattooed monk of the Dragon Clan.
Kanmu was born into a peasant family. When his nephew Togashi Misuko, six years older than him, left their home village to become a Tattooed Monk he decided to make his own destiny by following her. [1]
Appearance
Edit
Kanmu was a massive, heavily-muscled tattooed man. [1]
His nephew's guardian
Edit
Since that moment Kanmu was beside Misoko even when she married to the Dragon Clan Champion Togashi Satsu. In 1171 Satsu as Voice of the Empress Iweko I departed to Kyuden Gotei to attend winter court. Misoko was with child and was accompanied by the Dragon Champion Mirumoto Kei. The return of the Army of Fire forced them to take a path between the Northern Wall Mountains. Kei sent Kanmu back to the Imperial City Toshi Ranbo to send word of the Yobanjin threat. [1] He was fond of the time he spent in capital, but in 1172 he returned to watch the son born by Misuko. [2]
External Links
Edit
References
Ad blocker interference detected!
Wikia is a free-to-use site that makes money from advertising. We have a modified experience for viewers using ad blockers

Wikia is not accessible if you've made further modifications. Remove the custom ad blocker rule(s) and the page will load as expected.