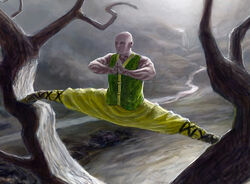 Togashi Kanaye was a monk of the Dragon Clan.
Gaijin Spoon
Edit
He was gifted a gaijin spoon by Ide Eien. For some unknown reason the Scorpion Clan Champion Bayushi Paneki ordered Ide Daimyo Ide Tang to have the spoon stolen from Kanaye. Paneki informed Tang that Kanaye was spending Winter Court in 1169 in Kyuden Otomo. [1]
Mantis Negotiations
Edit
At some point during Winter Court in winter 1169-1170 Kanaye travelled to Kyuden Asako to enter negotiations with Yoritomo Sachina. Sachina became frustrated with Kanaye when he continued to speak in riddles. In the end she stormed out clearly frustrated, much to Kanaye's liking. [2]
Hoketuhime's Death
Edit
The Otomo Daimyo Otomo Hoketuhime was assassinated in 1170. [3] A spoon stood alongside her, [4] the one Kanaye claimed was stolen last winter court. [1]
External Links
Edit
References
Ad blocker interference detected!
Wikia is a free-to-use site that makes money from advertising. We have a modified experience for viewers using ad blockers

Wikia is not accessible if you've made further modifications. Remove the custom ad blocker rule(s) and the page will load as expected.