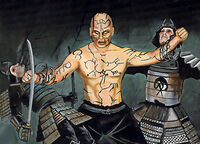 Togashi Jodome was a tattooed Monk of the Dragon Clan, a shugenja Acolyte of Air, and supporter of the Brotherhood of Shinsei.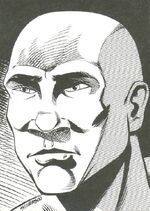 In 1124 Jodome's family all died from a plague that struck his homeland near Shinomen Mori. Jodome sequestered himself within Kyuden Togashi, living in contemplation and studying the Tao of Shinsei. After a year Jodome could not shake the sadness of the death of his family, and the Dragon Clan Champion Togashi Yokuni spirited him, to become an example to the people while serving in the Temple of Osano-Wo. [1]
Jodome was sensei to Togashi Miyoki, daughter of Mirumoto Sukune and cousin to the Mirumoto Daimyo Mirumoto Hitomi. [2]
Elemental Acolyte
Edit
Jodome was the eldest Elemental Acolyte during the reign of Hantei XXXIX. However, his fellow brother Suana had more ascendance in the Brotherhood. [3]
Known Tattos
Edit
Jodome bore the Bat, Full moon, and Phoenix tattoo. [1]
See also
Edit
External Links
Edit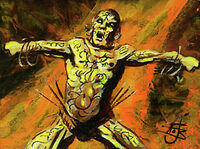 References