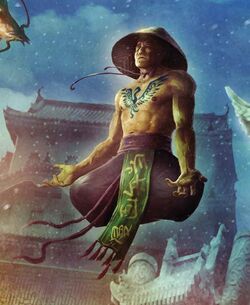 Togashi Ikumu was a tattooed monk of the Dragon Clan.
Third Rise of Iuchiban
Edit
Ikumu was gifted since child with the gift of foresight and he was sent to study with the Ise Zumi. He received a position tending to a temple of Hotei shortly after his gempukku. There he endured the Rain of Blood in 1165, but his heart was filled with anger, so he volunteered to join the Mirumoto during the Blood Hunt at the orders of Mirumoto Haruhide, chasing the Bloodspeakers who had enacted this foul ritual. [1]
Courtly Life
Edit
Haruhide was promoted to the courts of Toshi Ranbo, and requested his advisor Ikumu to join him. There his dreams became erratic, after a vengeful Scorpion courtier, Bayushi Shigeru, began to slip Liquid Void into his food, making him an addict. Ikumu eventually returned in 1170 to defend the borders of his Clan during the War of Dark Fire. With each day, the monk craved the food of Toshi Ranbo, and he did not know why. [1]
Brothers of Jade
Edit
Ikumu had the honor and privilege to stare into the Jade Mirror. He emerged changed from the experience and joined the Brothers of Jade, the unit of those who had passed the same epiphany. [citation needed]
Yobanjin attack
Edit
In 1170 the castle guard of the High House of Light sent word to Shiro Mirumoto to inform the castle was in danger, knowing their cavalry would not aid them in time. The Northern Towers of Flame had been breached, and yobanjin minions of the Dark Oracle of Fire Chosai had broken through. The invaders were destroyed with the guards aided by the Brothers of Jade. [2]
See also
Edit
External Links
Edit
References
Ad blocker interference detected!
Wikia is a free-to-use site that makes money from advertising. We have a modified experience for viewers using ad blockers

Wikia is not accessible if you've made further modifications. Remove the custom ad blocker rule(s) and the page will load as expected.