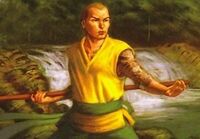 Togashi Gato was a tattooed Monk and duelist of the Dragon Clan.
Visiting Sunset Tower
Edit
Following the order gave by Mirumoto Kei to leave and teach the Tao [1] Gato became a world traveler. In 1171 he went to the Sunset Tower and met Mirumoto Ichizo. The same day appeared Kitsuki Hanbei, to whom Gato was at odds when the Kitsuki was rude with Ichizo. [2]
War of Honor
Edit
Bayushi Saka and Bayushi Hikoko provoked a conflict [3] with the Lion. [4] The Scorpion had attacked an Imperial ambassadorship caravan [5] near a Crane village, and the assailants had planted a dagger [6] with the Matsu mon. [7] Saka considered Akodo Dosei a straight-laced buffoon who had no inkling what was really going on there. By the time he realized it, it would all be over. [8] Matsu Fumiyo considered a blasphemy that a Lion's blade was found at the scene of a crime. [9] The Dragon revealed the truth, however, and the Scorpion were exposed. [10] A Lion army was given an opportunity to avenge a debt of honor. [11] The Phoenix meddled to stop the fight among both clans, [12] as well as the Dragon. [13] Gato saw the conflict as an opportunity for the Lion and Scorpion to grow beyond their mutual hatred. [14] It was a dispute between two clans, with two more involved in a misguided attempt to mediate. [15] Disagreements between the clans caused great chaos and discord, but the situation ultimately benefited the Imperial families in one way or another, [16] and they had permitted the war to begin, as they provided the Scorpion the planted item. [17]
Destroyer War
Edit
In 1172 Kakita Idzuki leading the Lady Doji's Eyes requested the aid of Togashi Gato during the Destroyer War to intercept a Centuriae unit who had landed in the Daidoji lands. The Ise Zumi managed to kill the Destroyers' leader and the Ikoma Wardens and Doji's Eyes turned the gaijin back to the sea. Gato suffered some significant injuries, but survived the dat. [18]
External Links
Edit
References
Ad blocker interference detected!
Wikia is a free-to-use site that makes money from advertising. We have a modified experience for viewers using ad blockers

Wikia is not accessible if you've made further modifications. Remove the custom ad blocker rule(s) and the page will load as expected.