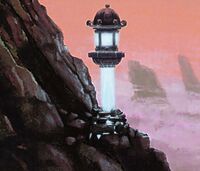 The Togashi's Shrine was first created by the Dragon Clan in the early days, at the Dawn of the Empire, in order to better learn from their great Kami, Togashi. [1]
Tattoing
Edit
The shrine was where the monks of that time came to be tattooed with the blood of their god. [1]
Meeting of the Three Orders
Edit
In 1168 the heads of the three tattooed orders, Hitomi Kagetora, Hoshi Wayan, and Togashi Nyima, representing his lord and Champion Togashi Satsu, made a meeting there. A powerful nemuranai, the Jade Mirror, had been recently retrieved by the Dragon Clan. Satsu asked then to deliberate as to whether the item should be used, and if so, how. [1]
Knwon Guardians
Edit
External Links
Edit
References
Ad blocker interference detected!
Wikia is a free-to-use site that makes money from advertising. We have a modified experience for viewers using ad blockers

Wikia is not accessible if you've made further modifications. Remove the custom ad blocker rule(s) and the page will load as expected.