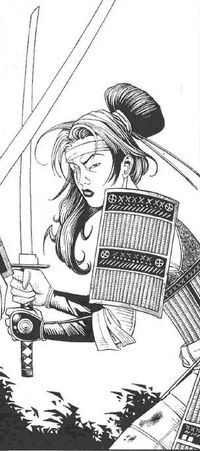 Tobuko, a former Mantis, [1] was the one-eyed ronin lieutenant of the bandit Niban. [2]
Tobuko was a true ronin, a woman who could never kneel before another. She liked the freedom of being a wave woman, and despised the concept of bushido. She had a missing eye. [3]
The Setsuban Festival
Edit
Niban had founded the Nightingale Village in the hopes of impressing the Phoenix Clan enough to gain his men positions as vassals. To gain their attention, he sent the ronin shugenja Koan to compete in the Setsuban Festival Tournament. The Phoenix judges refused to allow a ronin entry into the tournament, so Niban stole the tournament's prize, a large cache of spell scrolls, and used them to barter Koan into the competition. [4] During the assault to the caravan with the scroll Koan killed the cache's keeper, Iuchi Taiga. [2] The judges agreed, as long as Koan was not allowed to win the tournament. Koan reached the semi-finals, and the tournament was won in the end by Isawa Uona. [5]
Kidnapping and framing Niban
Edit
Tobuko had grown weary of Niban's complacence and wished to return to a life of banditry. Tobuko kidnapped Otomo Yoroshiku and framed Niban for it, [6] which would lead to Niban's death and the destruction of the village in the Battle at Nightingale Village. [7] When the attention came to her, Tobuko escaped. [8]
See also
Edit
References
Ad blocker interference detected!
Wikia is a free-to-use site that makes money from advertising. We have a modified experience for viewers using ad blockers

Wikia is not accessible if you've made further modifications. Remove the custom ad blocker rule(s) and the page will load as expected.