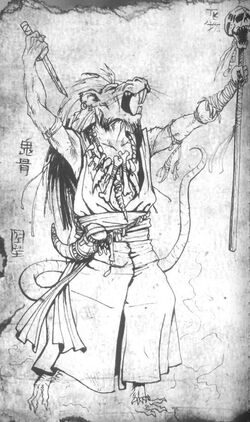 Tikuku was a Nezumi Shaman of the Tattered Ear Tribe. He was in good relations with the Kuni family. [1] The chieftain of the tribe was Stikak. [2]
Demeanor
Edit
Tikuku was clever and spoke rough Rokugani. He enjoyed talking to Pink Ones when he could. [3]
Cripple Bone Expansion
Edit
Tikuku, Stikak and Tch'orr'tkk, the tribe's Rememberer, formed the ruler council of the tribe. The scout Hikapi Longsnout told the Crippled Bone Tribe had begun its expansion, even in the Shadowlands. It was seen as a possible source of conflict among both tribes, so the Tattered Ear retreated north, deeper in the Shinomen Mori. [4]
References
See also
Edit
References