Ad blocker interference detected!
Wikia is a free-to-use site that makes money from advertising. We have a modified experience for viewers using ad blockers

Wikia is not accessible if you've made further modifications. Remove the custom ad blocker rule(s) and the page will load as expected.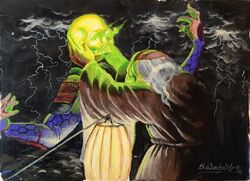 Thy Master's Will was a Shadowlands Power that allowed the tainted individual to return from death every time he was killed. The first time this power activated the individual returns as an undead creature, but would return to their full strength (but not life) after a period of time had passed. He was basically a living soul trapped in an undead body. The body began to rot, and the stench of death would follow the body. [1] [2]
Characters Known to have this Power
Edit
External Links
Edit
References