Thunder Dragon Bay (M9) was well protected by a natural barrier of jagged coral reefs, along with occasional rocky outcroppings. [1] Because of its secluded location, as well as its reefs, it was of little value as an anchorage. Until the 12th century it was an unnamed bay. [2]
Thunder Dragon
Edit
When the Thunder Dragon descended to Ningen-do, she often favored this location with her presence for unknown reasons, [1] and eventually coming to reside in this specific bay. When Mantis Clan Champion [[Yoritomo Naizen]] discovered this, he dispatched the bulk of the Mantis fleet to protect the now-vulnerable Dragon and renamed the anchorage as Thunder Dragon Bay. [2] In 1200 when the Third Seal broke, all Mantis Islands were attacked at once. Only Thunder Dragon Bay remained untouched by demonic invasion. [3]
External Links
Edit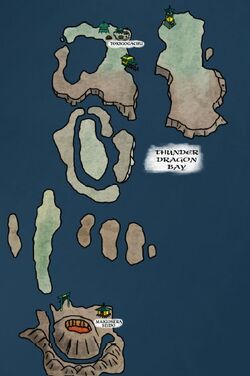 References
Ad blocker interference detected!
Wikia is a free-to-use site that makes money from advertising. We have a modified experience for viewers using ad blockers

Wikia is not accessible if you've made further modifications. Remove the custom ad blocker rule(s) and the page will load as expected.