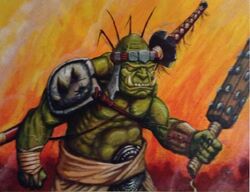 Thuk-Kigi was a Goblin Warmonger of the Shadowlands.
Inventor
Edit
Thuk-Kigi was descendant of Basher, the intelligent goblin who elevated his race beyond Fu Leng's initial vision. [1] Thuk-Kigi invented a new siege machine, the Thuk-Kigi's War Machine, [2] which was used in 1159 during the Fall of Otosan Uchi. [1]
External Links
Edit
References
Ad blocker interference detected!
Wikia is a free-to-use site that makes money from advertising. We have a modified experience for viewers using ad blockers

Wikia is not accessible if you've made further modifications. Remove the custom ad blocker rule(s) and the page will load as expected.