Clan War Information
Edit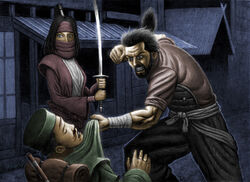 Thug
Thug is larger and more ruthless than others of his race who understand the basics enough to moderately improve the performance of his unit.
Equipment
Edit
Major References
Edit
Clan War: Shadowlands Army Expansion, page 36
Clan War: Thunder's Challenge, page 37
Ad blocker interference detected!
Wikia is a free-to-use site that makes money from advertising. We have a modified experience for viewers using ad blockers

Wikia is not accessible if you've made further modifications. Remove the custom ad blocker rule(s) and the page will load as expected.