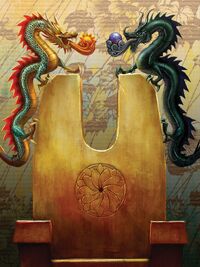 The Imperial Throne was the seat of power for the Emperor of Rokugan.
Emerald Throne
Edit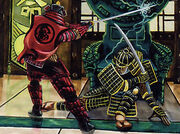 The first throne was the Emerald Throne, which was created for the first Hantei and seated the Hantei Dynasty until the Day of Thunder in 1128. The Emerald Throne was split in half by Bayushi Shoju during the Scorpion Coup in 1123, but was still used by Hantei XXXIX until his death on the Day of Thunder.[citation needed]
Jade Throne
Edit
After the Day of Thunder and the Coronation of Toturi I a new throne was crafted out of jade. [1] The Jade Throne lasted until only a decade until it's destruction in 1138 by Toturi I preventing Hantei XVI gaining control of the throne.[citation needed]
Steel Throne
Edit
The Steel Throne was the next Imperial Throne and current one. It was created at the end of the War of Spirits, and incorporated pieces of the previous two thrones, the Emerald Throne and the Jade Throne, into the armrests.[citation needed]
Imperial Throne Room
Edit
In 1170 following Iweko I ascension as Divine Empress the Imperial Throne room arrangement was modified. There were screens surrounding the dais, so the Empress could not be seen by her attendants. Standing next to the screen was Togashi Satsu, the Voice of the Emperor. [2]
References
Ad blocker interference detected!
Wikia is a free-to-use site that makes money from advertising. We have a modified experience for viewers using ad blockers

Wikia is not accessible if you've made further modifications. Remove the custom ad blocker rule(s) and the page will load as expected.