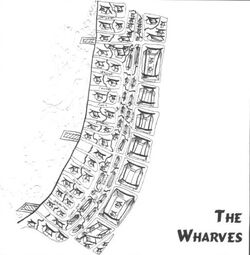 The Wharves was one of the quarters of Ryoko Owari Toshi, the deep docks on the south and east sides of the Bay of Drowned Honor which stretched back to Silver Avenue. They docked only large merchant barges. It suffered spring floods. [1]
The Kajinin of this quarter were the Strong Arm Firemen. [2]
Notable Locations
Edit
The Northeast Wharf: varied imported cargoes were unloaded here, and the ships carried away sake, pottery, and medcal opium. [2] It came under the control of the Black Lotus Cartel. [3]
The Grand Wharf: This was where the largest and most expensive barges docked. [2]
References
↑ City of Lies: Location Guide, p. 28
↑ Way of the Thief, p. 67