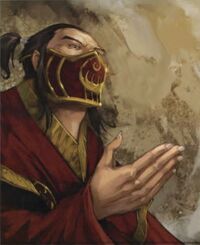 The Sensei was the unnamed Scorpion Clan sensei who taught The Student. [1]
Yogo Kazunori
Edit
Speculations were made that this unknown Scorpion was Yogo Kazunori, who had not been punished by his clan from his demise in the Traitor's Grove. [citation needed] Soon after Kazunori supposedly was bound to the grove, the Sensei appeared as teacher in the Deception's Veil Dojo, in the family's more sequestered provinces. [2]
For further information on this section, please see Yogo Kazunori
In 1170 during the Month of the Dog the Sensei taught the Student in the Chugo Seido. [3] Between his teachings he explained that most tacticians were imbeciles of the first order. Knowledge gained only on paper meant nothing in execution. This was a lesson that he had learned the hard way years ago. [4]
Destroyer War
Edit
Western Works Village was known by the Sensei when he had lived another life, when he had borne a different name. [4] In the month of the Hare of 1173 [5] the village was under the assault of the Destroyers, as another offensive during the Destroyer War. They moved as if they were searching for something. The Sensei knew the item the gaijin demons were seeking was not there. Several years ago, he had prepared Mizugusuri elixirs concealed throughout the village, with no real motivation. When the Destroyers had invaded Western Works Village the Sensei magically opened the wards that sealed the smaller containers. The mixture of liquids provoked an explosion that ruined the village and the invaders. [4]
External Links
Edit
References
Ad blocker interference detected!
Wikia is a free-to-use site that makes money from advertising. We have a modified experience for viewers using ad blockers

Wikia is not accessible if you've made further modifications. Remove the custom ad blocker rule(s) and the page will load as expected.