The Mind of a Unicorn is a fiction first published in The Way of the Unicorn. It was written by Edward Boulme and Andrew Heckt. The story is a continuation of A Ride Into Darkness.[1]
Annotated Fiction
Edit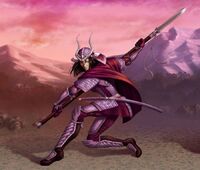 The story begins with the account of Bayushi defeating Shinjo through trickery at the Tournament of the Kami. Shinjo is incensed at Bayushi's tactics, which Shinjo considers to be cheating.[2]
The scene flashes forward to the fight between Fu Leng and Shinjo at Fu Leng's castle. Fu Leng has just beaten Shinjo for the third time, in accordance with the rules of the original tournament. Shinjo then realizes why she came to see Fu Leng. She tells him that it is out of love for all who suffer. This includes Fu Leng, but Shinjo does not tell him that.[3]
To be continued in: A Prophecy
Characters
Edit
References
Edit
Ad blocker interference detected!
Wikia is a free-to-use site that makes money from advertising. We have a modified experience for viewers using ad blockers

Wikia is not accessible if you've made further modifications. Remove the custom ad blocker rule(s) and the page will load as expected.