In an effort to hold the crumbling peace of the Empire together after the disappearance of Toturi and apparent suicide of Kakita Toshimoko the Seppun and Otomo families call for the Test of the Jade Champion in 1131. This was the first such event in centuries.
The Position had long been defunct as it had been seen as an affront to the power of the Phoenix Clan.
One shugenja was sent from each clan to enter the championship, ending in the Doomseeker Iuchi Karasu being defeated by Kitsu Okura. Rumors of Okura's power spread, some believeing them being owed to a dark allegiance, but even so the post was awarded to Okura. [1]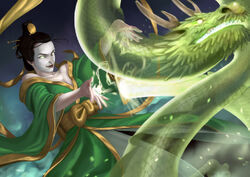 Each shugenja had to defeat his opponent without crippling him. They chose their mastered element and made a shaped creature of the choosen element. Both magical creatures fought between them until being destroyed or one being banished because his summoner lost his concentration. [2]
Contenders
Edit
Each Clan could sent several representatives, instead the only one was allowed in the Emerald Championship. [3]
External Links
Edit
References
↑ Legend of the Five Rings; Third Edition p. 22
Ad blocker interference detected!
Wikia is a free-to-use site that makes money from advertising. We have a modified experience for viewers using ad blockers

Wikia is not accessible if you've made further modifications. Remove the custom ad blocker rule(s) and the page will load as expected.