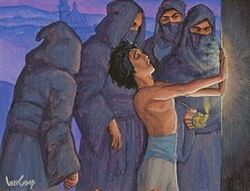 The Test of the Ebon Stone was the final test before an Ebonite passed his final year of training, learning all the secrets of the Order, prior to become an Ebonite Templar. [1] Those who passed the test had the palm of his hand permanently black. [2] An Ebon Hand was the signal of the Order and it was bore in their dresses or even painted in the bare body. [citation needed]
Ivory Kingdoms
Edit
The test was created by Mekhem to determine who had the soul able to withstand the dark and evil that waits hungrily for all. No one talked of what the ritual was. Those who passed became a member of the Ebonites, and those who failed fled into the night, either dying of exposure or joining the group known as the Jackals. [3] The evil inside the Ebon Stone was the Lying Darkness, and the Jackal were those who had not endured his seduction. [4]
Medinaat al-Salaam
Edit
At Medinaat al-Salaam the Ebonites sent those who failed to the sewers of the city. They were escorted, and after the gate was closed the Ebonite Templars gave them a knife. They had to survive in the undergrounds of the city, becoming a Jackal, or died. In this case they used to be raised as ghuls. [5]After a Jackal betrayed the Ebonites' secrets to the order's other deadly enemies, the Cult of Ruhmal, they began executing those who failed the Test of the Stone. [6]
External Links
Edit
References
Ad blocker interference detected!
Wikia is a free-to-use site that makes money from advertising. We have a modified experience for viewers using ad blockers

Wikia is not accessible if you've made further modifications. Remove the custom ad blocker rule(s) and the page will load as expected.