A tessen was a war fan, a metal ribbed fan that served both as a shield and to command as a signaling device. [1]
It was more often used as a signaling device than a weapon. Most tessen did not fold, and the only exceptions were known as Menhari-Gata. Most tessen were made of wood, but menhari-gata had tines of metal or hard wood capable of deflecting blows. The tessen did carry enough weight to bludgeon or lend weight to punches. On some menhari-gata, the tines were sharpened and used for slashing. Another kind of tessen was the gunsen, which was decorated with military symbols and used to signal troops in battle. Unlike most weapons, war fans were allowed into court chambers or negotiations, and they could be very valuable if violence erupted. [2]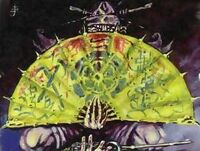 External Links
Edit
References
Ad blocker interference detected!
Wikia is a free-to-use site that makes money from advertising. We have a modified experience for viewers using ad blockers

Wikia is not accessible if you've made further modifications. Remove the custom ad blocker rule(s) and the page will load as expected.