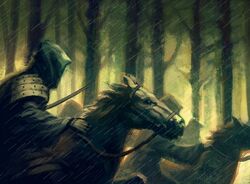 Tengoku's Justice was a small, mobile and fast-attacking juzimai. [1]
Ruthless in the extreme, the mountain bandits were as reviled as the Forest Killers. The band made their home in the Dragon mountains, pillaging and laying waste to entire villages to gather the supplies and wealth they desire. They trust in the traditional inaction of the Dragon to make their apprehension less likely, but had drawn the unwavering attention of the magistrates of the Mantis Clan due to their actions. [2]
Technique
Edit
They used the Heaven's Curse technique, which gave them advantage during skirmishes where their prey were surprised. [2]
The bandit gang was founded by Justice, a former Shiba Bushi who his his face under an ornated mask. [3]
Dragon territory
Edit
They plagued Dragon lands during the years when the Imperial Throne was vacant. [4]
Mantis Claim
Edit
The Dragon studied the bandits to destroy them once for all, but before they stroke, the Mantis Clan claimed their right to pursue them within Dragon territory. The Mantis were granted pass by Otomo Hoketuhime's decision. [5]
See also
Edit
External Links
Edit
References
Ad blocker interference detected!
Wikia is a free-to-use site that makes money from advertising. We have a modified experience for viewers using ad blockers

Wikia is not accessible if you've made further modifications. Remove the custom ad blocker rule(s) and the page will load as expected.