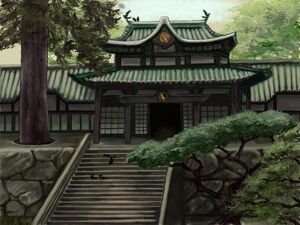 The Temple to Te'tik'kir was built at Toshi Ranbo in honor of the Nameseeker and Chieftain of the Crippled Bone Tribe, Te'tik'kir, that saved the last Kitsu, Nintai. [1]
Petition at Winter Court - 1168
Edit
During Winter Court at Kyuden Otomo in 1168, the Lion learned that the nezumi had rescued Nintai. As a result, they tried to present to Otomo Hoketuhime to convey to the Empress Toturi Kurako petition for permission to create a Temple to Te'tik'kir in the capital Toshi Ranbo. Their initial attempt was disrupted by an aggressive Mantis courtier. Eventually the Empress visited court [2] and the Kitsu Daimyo Kitsu Katsuko successfully presented their petitions to her. [3]
Ichidou District
Edit
The temple was built in the Ichidou District, home to most of the city's major temples and shrines. [4] It was most often visited by Lion deathseekers, who also sought redemption as Tsuno Nintai found through the sacrifice of Te'tik'kir. [5]
Opening the Temple
Edit
In 1169 K'mee, the nezumi monk came to bless the Temple. The Lion Clan were surprised no other nezumi appeared there, and asked her why. K'mee began to cry, and Nintai stepped in to tell the nezumi tale, no survivors from the travel to Yume-do returned. The Master of Void, Shiba Ningen, appeared with Chi'kel alongside him, the only survivor. He told the tale of Tomorrow, and vowed to remain at the Temple to tell it again for any who wished to hear the tale. Surprissingly several Asp Naga, former nezumi-eaters, arrived. They had awoken to pay the debt for the nezumi's sacrifice. They would guard the temple and its keeper from any who would do them harm. [6] [7]
Shinomen Burns
Edit
In 1170 the Shinomen Mori was set to fire [7] by the Spider Clan, and the Temple attacked by them and destroyed. Nintai, and the Naga defenders were all slaughtered, only surviving Chi'kel who had fled. [8]
Nintai's death
Edit
Chi'kel stayed at the Temple, [9] which was being rebuilt and refurbished, to also honour the late Nintai. [10]
External Links
Edit
References
Ad blocker interference detected!
Wikia is a free-to-use site that makes money from advertising. We have a modified experience for viewers using ad blockers

Wikia is not accessible if you've made further modifications. Remove the custom ad blocker rule(s) and the page will load as expected.