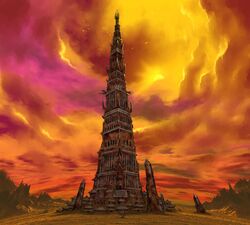 The Temple of the Ninth Kami was a massive temple in the Teeth of the Serpent, deep in the Shadowlands, in the center of the City of the Lost. [1]
Founding
Edit
Built by Daigotsu and the Lost he gathered after the Battle of Oblivion's Gate, it was dedicated to the Ninth Kami, Fu Leng. A large shrine dominated the entry chamber, with a thirty-foot statue depicting a tall, beautiful man with hair of midnight black. In his hands, he crushed a writhing snake. Beneath one foot, he cracked the shell of a crab. [2]
Invasion of the Celestial Heavens
Edit
The true purpose of the Temple of the Ninth Kami was to worship Fu Leng, channeling their own will and power to him. With every twisted prayer they uttered, the power of the Ninth Kami was increased, and it was used in the Invasion of the Celestial Heavens. [3] It became the personal headquarters for Daigotsu himself. [4]
Iuchiban's Rule
Edit
In 1165 the City of the Lost was seized by Iuchiban, who retained the temple as his headquarters. He had gone about destroying all remaining symbols of Fu Leng, transforming the temple into an enormous Bloodspeaker temple. [5]
Time of Demons
Edit
In 1168 the Temple was attacked by Munemitsu no Oni, during the Time of Demons war. The oni was defeated by Daigotsu's followers. [6]
Known High Priest
Edit
External Links
Edit
References
Ad blocker interference detected!
Wikia is a free-to-use site that makes money from advertising. We have a modified experience for viewers using ad blockers

Wikia is not accessible if you've made further modifications. Remove the custom ad blocker rule(s) and the page will load as expected.