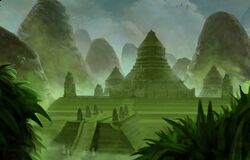 Temple of Tengen, built in the Temple District of the Second City, was devoted to Tengen, Fortune of Writing and Literature. [1]
Dark Naga Assault
Edit
The monks of the Order of Tengen there brewed a form of incense which, while sweet smelling, was actually one of the most toxic poisons every discovered by the Shosuro family. It was used in 1199 by Bayushi Mifuyu to defend the Temple from the Dark Naga during the Dark Naga Siege of the Second City. [2]
External Links
Edit
References
Ad blocker interference detected!
Wikia is a free-to-use site that makes money from advertising. We have a modified experience for viewers using ad blockers

Wikia is not accessible if you've made further modifications. Remove the custom ad blocker rule(s) and the page will load as expected.