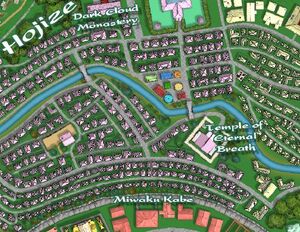 The Temple of Eternal Breath was located in the Hojize district of Otosan Uchi. Peasants believed that those who prayed in the temple and truly meant it would never die. [1]
Keeper of the Temple
Edit
The monk Koro had been the Keeper of the temple from prior to the Scorpion Coup [1] until the Fall of Otosan Uchi in 1159. Over thirty-six years. [2]
Fall of Otosan Uchi
Edit
In 1159 during the Fall of Otosan Uchi the onisu Yokubo stormed the temple. Asahina Handen, who ran for his life abandoning the others, had his life spared by Yokubo, as well as the others within the temple. The fate of Koro was unknown from this point, but it was believed he still lived. [2]
References
Ad blocker interference detected!
Wikia is a free-to-use site that makes money from advertising. We have a modified experience for viewers using ad blockers

Wikia is not accessible if you've made further modifications. Remove the custom ad blocker rule(s) and the page will load as expected.