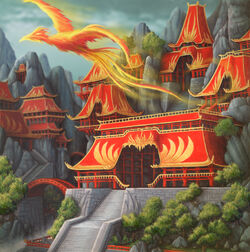 The Temple of Brilliant Rebirth was located near Shiro Shiba, surrounded by Brilliant Rebirth Village. [1]
Founding
Edit
It was built by Shiba Tsukune as temporary housing for homeless peasants after the Day of Thunder. The workers built a castle, surrounded by a walled village. Tsukune declared the temple would honor the souls of fallen Phoenix soldiers, and named it the Temple of Brilliant Rebirth. [2]
There were numerous small shrines inside the temple, each one dedicated to a Phoenix Clan Champion. The shrines held a small portrait of the Champion, a written account of their lives, and any family relics. The two largest shrines were dedicated to the kami Shiba and Tsukune, who since became the Fortune of Rebirth. [3]
External Links
Edit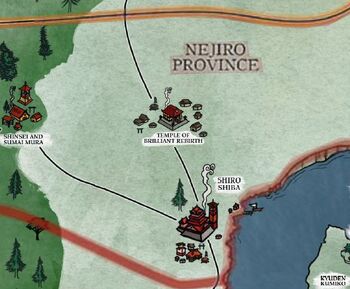 References
Ad blocker interference detected!
Wikia is a free-to-use site that makes money from advertising. We have a modified experience for viewers using ad blockers

Wikia is not accessible if you've made further modifications. Remove the custom ad blocker rule(s) and the page will load as expected.