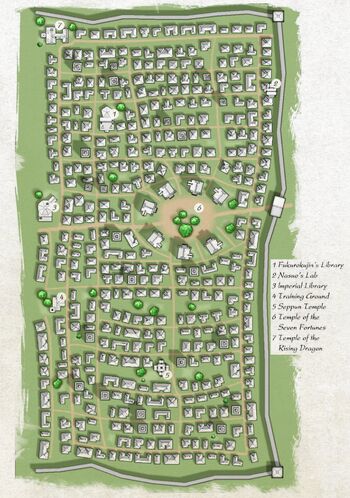 The Temple District was the Second City's primary center of religion and academic study, housing many of the shrines and temples of the colonial capital. [1]
It was the first district to be created after the city grew beyond the walls of the Military District on its eastern edge. A secondary wall was built to protect this district. It was the Second City's primary center of religion and academic study, and many scholars and priests chose to maintain private estates within the district. [2] Focused on learning and religious study, the Phoenix and Dragon Clans took an early leadership role in how it was designed and built. Having a residence in the Temple District became a status symbol among the traditionalists. [3]
Appearance
Edit
The Temple Districti was marked by a great temple in the center, the Temple of the Seven Fortunes along with several large libraries. The district as a whole was built in an expansive manner to make the area feel open and serene. [4]
Temple to the Lords of Death
Edit
The city had a large Unicorn population, so a Temple to the Lords of Death was built. [5]
Inquisitor Temple
Edit
In 1198 the Phoenix was granted to build a temple tended by Asako Inquisitors, to protect the citizens from any danger that arose from exploration, [6] the Library of Rebirth. [7] The Phoenix library was the largest repository of recovered lore from the now-lost Ivory Kingdoms. [8]
P'an Ku's Madness
Edit
In 1199 th Temple District had been almost completely ruined by angry mobs under the influx of the mad dragon P'an Ku. [9]
Dark Naga Assault
Edit
In 1199 Dark Naga forces assaulted the city, and the Quelsa led the serpents against the Temple District. [10]
Notable Locations
Edit
External Links
Edit
References
Ad blocker interference detected!
Wikia is a free-to-use site that makes money from advertising. We have a modified experience for viewers using ad blockers

Wikia is not accessible if you've made further modifications. Remove the custom ad blocker rule(s) and the page will load as expected.