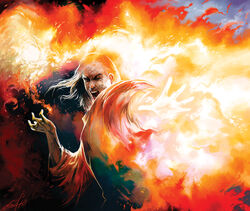 Tempest of Fire was a Mastery 6 fire spell which allowed the shugenja to overwhelm the entire nearby area with sheets of roaring flames, so any combustible material would instantly detonate, and even difficult to burn items would ignite. [1]
External Links
Edit
References
↑ Player's Guide: 2nd Ed, p. 227
Ad blocker interference detected!
Wikia is a free-to-use site that makes money from advertising. We have a modified experience for viewers using ad blockers

Wikia is not accessible if you've made further modifications. Remove the custom ad blocker rule(s) and the page will load as expected.