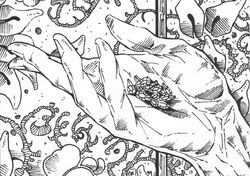 Tears of the Oni's Eye allowed its carriers to communicate back with the user of the Oni's Eye. [1]
Appearance and Abilities
Edit
Tears appeared to be nothing more than a teardropshaped piece of crystal. Every month on the night of the full moon the Oni's Eye produced several Tears. These tears lasted for roughly a year, then crumbled into dust. [2]
Kolat Asset
Edit
Trusted Kolat agents carried these items with them, usually disguised as an item of jewelry. There was no outward sign of this communication, for the person with the Tear would hear their voices directly inside his mind. [3]
References
Ad blocker interference detected!
Wikia is a free-to-use site that makes money from advertising. We have a modified experience for viewers using ad blockers

Wikia is not accessible if you've made further modifications. Remove the custom ad blocker rule(s) and the page will load as expected.