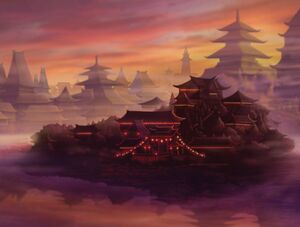 Teardrop Island was located in Ryoko Owari in the center of Kawa no Kin, the River of Gold.
Business
Edit
The buildings there were known as Teardrop Village. [1] Countless Geisha houses, opium rooms, sake houses, and other such establishments stood in open view of the streets. Those who wished to remain anonymous were provided with basket hats. Visitors were expected to set aside their weapons for "polishing" while they sampled the island's luxuries. [2] Everything that came to the island had to go through the Island Dock. [3]
Kolat Infiltrating Ryoko Owari
Edit
In 1128 the Kolat Master Chinoko donated generously to rebuild Teardrop Island following the Crab attack on Ryoko Owari Toshi the previous year. It restored the geisha quarter to new grandeur, under her control. Soon her spies and informants were established throughout the city. [4]
Ownership
Edit
Its ownership had changed as Ryoko Owari, from Unicorn to Scorpion and opposite, [2] and also to the Mantis Clan. [5] In 1169 after the Battle of Toshi Ranbo the Mantis strenghtened their influence within the Empire. They got a foothold in the southern part of the Empire through Teardrop Island. They purchased more than three quarters of all merchant patronages, and Scorpion did not realize it. After it de facto ownership shifted to the Mantis. [6]
Crane district
Edit
A district of the Island was passed to the Crane Clan for their support in the appoinment of Yoritomo Yoyonagi as Amethyst Champion. When the Scorpion eventually attempted to take back control of the district they would have to contend with two clans. [7]
External Links
Edit
References
Ad blocker interference detected!
Wikia is a free-to-use site that makes money from advertising. We have a modified experience for viewers using ad blockers

Wikia is not accessible if you've made further modifications. Remove the custom ad blocker rule(s) and the page will load as expected.