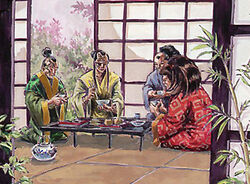 Tea Houses were the great social center of Rokugan outside of Courts, and more important meetings took place in such places than in any other public setting anywhere in the Empire. Larger, higher quality teahouses maintained their own gardens to raise tea, and some of the finest even have unique blends unavailable anywhere else. [1]
External Links
Edit
References
↑ Way of the Daimyo, p. 24
Ad blocker interference detected!
Wikia is a free-to-use site that makes money from advertising. We have a modified experience for viewers using ad blockers

Wikia is not accessible if you've made further modifications. Remove the custom ad blocker rule(s) and the page will load as expected.