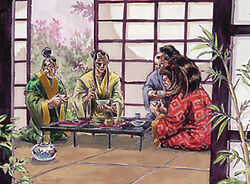 Tea was the most common Rokugani beverage. It was prepared by pouring hot or boiling water over cured leaves of the tea plant. Tea houses were places were the Rokugani can drink tea, and Tea Ceremony was a ritual appreciated and maintained among the samurai caste. [citation needed]
Tea Plantations
Edit
Much of Rokugan's tea supply came from the Wall Above the Ocean, in the Crab lands. [1]
Spring's Smile was a tea from the Phoenix provinces, from bushes planted in cherry groves and picked at the height of the blooming season. [2]
Golden Needle was a tea quite popular in Phoenix lands. [3]
External Links
Edit
References
↑ Emerald Empire; Fourth Edition, p. 18