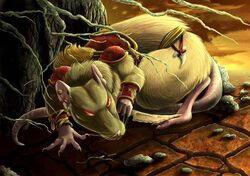 Tch'tek was a nezumi scout of the Crippled Bone Tribe.
Shinomen Mori
Edit
In 1166 Tch'tek was sent to the Shinomen Mori, to scout the Snakes that had appeared there. He met Y'tchee, another scout of the Tattered Ear Tribe, who told him of their warren, the Great Snake, and the story of the Snake That Is Good. [1]
External Links
Edit
References
↑ Creatures of Rokugan: Third Edition, pp. 21, 46
Ad blocker interference detected!
Wikia is a free-to-use site that makes money from advertising. We have a modified experience for viewers using ad blockers

Wikia is not accessible if you've made further modifications. Remove the custom ad blocker rule(s) and the page will load as expected.