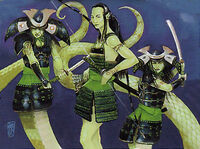 The Tausha was a naga commander of the Asp Bloodline.
Enmity with the Shahadet
Edit
Shortly before the Great Sleep the current Shahadet died, and following the tradition any Asp who declared his right to contest for the title entered into a tournament. Challenge after challenge Tausha her opponents, until she faced the other finalist, a naga who did not take the lives of the defeated as it was the right of the winner. When Tausha was defeated she begged to be killed, and it was denied by the naga who became the Shahadet. The Tausha, who should be Shahadet's right hand and lieutenant, was his greatest foe. Despite it the Tausha was beloved by the Shahadet. [1]
Awakening
Edit
The Tausha tried at every attempt to undermine the Shahadet's control, to destroy his authority, and to place him in the greatest danger. She went north to Kyuden Bayushi, to make deals with the Scorpion Clan. [1]
External Links
Edit
References
Ad blocker interference detected!
Wikia is a free-to-use site that makes money from advertising. We have a modified experience for viewers using ad blockers

Wikia is not accessible if you've made further modifications. Remove the custom ad blocker rule(s) and the page will load as expected.