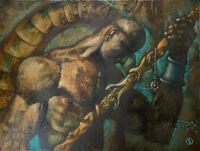 Taquar was the Leader of the Naga Jakla. [1]
Defender
Edit
The duty of the Taquar was being a guardian of the Naga cities and the Cobra egg-clutches. [2]
Great Sleep and Awakening
Edit
During the Great Sleep many Cobra died to maintain the spell of thousand years of slumber. He was appointed as healer alongside the Naga Warriors, and it was the first time he left the Cobra city of Vyakarana. During battle the afraid Taquar used his magic to hide himself, not participating in the fray until the danger was over.
See also
Edit
External Links
Edit
References