Tapestries of Air were created by the Asahina Shugenja and displayed in their temples and other places of religious significance. They used to depict scenes of Shinsei, Doji, or other famous figures in Rokugani history. They enhanced its owner's air magic ability, who could bestow this blessing to his associates at some extent. [1] [2]
External Links
Edit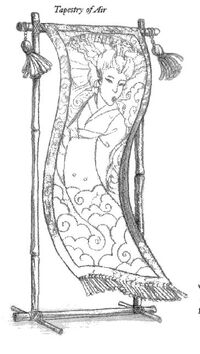 References
Ad blocker interference detected!
Wikia is a free-to-use site that makes money from advertising. We have a modified experience for viewers using ad blockers

Wikia is not accessible if you've made further modifications. Remove the custom ad blocker rule(s) and the page will load as expected.