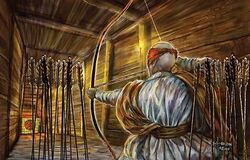 Taoist Archers had existed within the Brotherhood of Shinsei for centuries, seeking perfect harmony through the study of kyujutsu. The ronin Gahei began to disseminate the Taoist Archer teachings into the rest of the Empire before the Scorpion Coup. [1]
Known Technique
Edit
External Links
Edit
References
Ad blocker interference detected!
Wikia is a free-to-use site that makes money from advertising. We have a modified experience for viewers using ad blockers

Wikia is not accessible if you've made further modifications. Remove the custom ad blocker rule(s) and the page will load as expected.