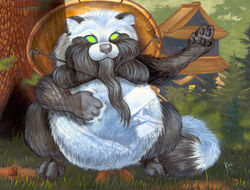 Tanuki were Hengoyokai badger spirits that originated from Chikushudo. These shapeshifters tended to be jolly and friendly, though they were also hot-tempered. Badgers did nothing halfway — they played malicious pranks upon those who displeased them, and went out of their way to reward those that treated them with kindness. [1] They felt deeply protective of the Minor Clan that shared their name, the Badger Clan. [2] Tanuki were particularly good at shapeshifting, and enjoyed doing so into inanimate objects. [3]
Tanuki were hedonistic, with a tremendous apetite for food and drink. They reacted to greed, cruelty or disrespect with savagery. [4]
Known Tanuki in Human Form
Edit
See also
Edit
External Links
Edit
References
Ad blocker interference detected!
Wikia is a free-to-use site that makes money from advertising. We have a modified experience for viewers using ad blockers

Wikia is not accessible if you've made further modifications. Remove the custom ad blocker rule(s) and the page will load as expected.