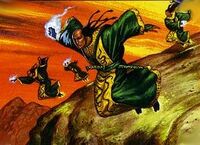 The Tamori Warrior Priest, the Yamabushi, [1] were Earth Shugenja who lived in the mountains of the Dragon. [2] They were trained in the Temple of the Tranquil Fire dojo. [3]
Combatants
Edit
They were the most militaristic in an entire family of warlike shugenja. They were extremely effective at breaking an enemy's line, but being fairly rare and few in number they were deployed cautiously. [4] They used simple weapons, as Wakizashi, katana, and light armor. [2] Their spells were powerfully destructive, [5] as they proved during the War of Fire and Snow. [6]
Abilities
Edit
Their powers would redirect the arrows fired by the enemy, denying the archery advantage. [7]
Known Techniques
Edit
External Links
Edit
References
Ad blocker interference detected!
Wikia is a free-to-use site that makes money from advertising. We have a modified experience for viewers using ad blockers

Wikia is not accessible if you've made further modifications. Remove the custom ad blocker rule(s) and the page will load as expected.