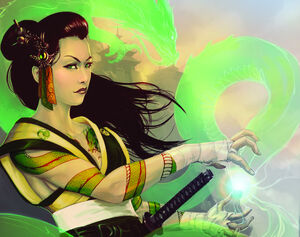 Tamori Touya was an earth shugenja of the Dragon Clan, grandaughter of Tamori Emina. Touya was blessed by Benten, the Fortune of Romantic Love, and refused three marriage proposals. [1]
Imperial Winter Court
Edit
In 1199 Touya attended Imperial Winter Court at Toshi Ranbo, and she became fond of Kitsu Chikuma. The couple suffered the gossip of other courtiers, who talked about the sweaty tension built between them. [2]
References
External Links
Edit
References