Tamori Tamoko was an earth shugenja and alchemist of the Dragon Clan.
Chasing Suikihime
Edit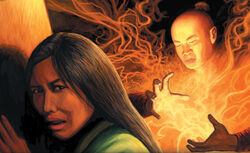 After the Siege of the Second City, the Imperial Governor of the Colonies Otomo Suikihime went into hiding. Tamoko and her companion Tamori Chikyu found the tracks of her entourage, only to be confronted by her Phoenix guard, Asako Karachu. The monk defeated and spared Tamoko, only to be immediately challenged again by Chikyu. Despite his exhaustion, Karachu managed to win the day. [1]
Memorial of a Friend
Edit
Tamoko was defeated and spared by Kakita Seishi, and after this first encounter, both samurai-ko befriended. Tamoko was saddened when she was told that Seishi had died under the claws of a ryu, when she was aiding a monk. Omigawa returned her corpse to the Second City, and Tamoko presided Seishi's memorial. [2]
Age of Madness
Edit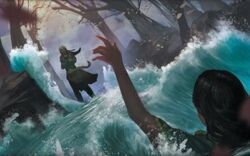 During the Age of Madness Tamoko was defeated and spared by the nun Aranai, a former Mantis. Aranai had knocked Tamoko into the rolling water the shugenja herself had summoned, but she did not let the shugenja die. [3] Tamoko was grateful to the monk for her intervention, because she had brought Tamoko to the realization of her folly and getting her to stand down. [4]
Tamoko confronted and defeated one of the creatures which were created through an Egg of P'an Ku, undoing her doppelganger. [5]
External Links
Edit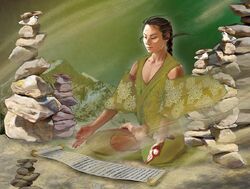 References
Ad blocker interference detected!
Wikia is a free-to-use site that makes money from advertising. We have a modified experience for viewers using ad blockers

Wikia is not accessible if you've made further modifications. Remove the custom ad blocker rule(s) and the page will load as expected.